oK, so i here the GEEWUNNER CRYBABES hate BAYS MEGATRON. THEY wine wine wine on mesage bards and blogs about MEGATRON not lookin like a TOY!!!
oh why didn't BIG MONY MAKIN DIRECTOR MICHAEL BAY make teh movie wit yur LITTLE DOLLIES?? because it wont WORK!!! i can prove this now!!!!
appels to oranjes... here is a new pic from 2007 move in EW magzine: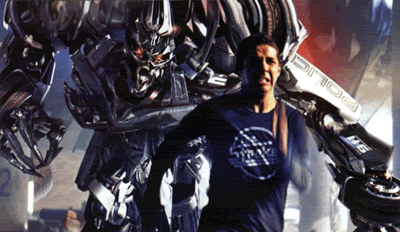 OMG!!!! IT MAKS ME SHIT MY PANTS!!!! FOR REAL!!!! LOOK AT THAT HATERS!!! THAT IS TEH BAY DOIN WHAT BAY DOS BEST!!! MAKIN AUDIENCE SHIT THERE PANTS!!!!
now look at SAD 1984 TOY tryin to scare SHIA...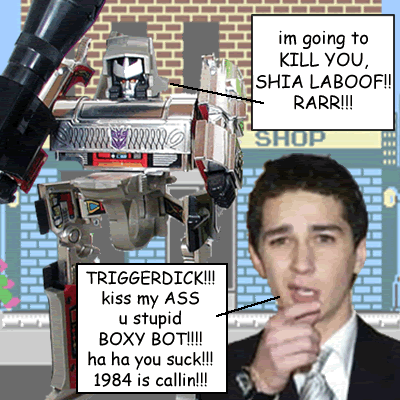 see DUMASSES??? IT WULDNT WORK!!! it look STUPID!!!!! you all think u now better than BAY but u are winy FANBOY dumasses who never made movies!!!!
now go play wit yur TOYS little geewun winebaby!!! BAY is too MANLY to play wih TOYS with u!!!
cry all u want, but ON 7.4.7 I WILL BE SHITTIN MY PANTS!!!